This case was presented in the Summer of 2020 at our Virtual IDEXX Diagnostic Imaging CE event.
History: Swelling distal L femoral region. Cranial drawer sign in L stifle
Images Provided: 2 Radiographs
How did we grade this?
| | |
| --- | --- |
| Increased soft tissue opacity in L stifle | 1 |
| Intra-articular opacity is lobular | 2 |
| Heterogeneous fat opacity lateral to distal femur | 2 |
| Mild stifle OA with enthesophyte on proximal tibia | 1 |
| | |
| --- | --- |
| Lobular nature of intra-articular opacity suggests a mass vs. effusion | 2 |
| Heterogeneous fat opacity consistent with joint associated tumor, such as myxoma/myxosarcoma. Intramuscular lipoma could appear this way, but this would not explain lobular nature of opacity in joint. | 2 |
| Non-neoplastic rupture of the cranial cruciate with OA | -4 |
Total: 10 , Passing: 7
Discussion:

The lobular appearance of the intraarticular aspect of this lesion is very typical for an intra-articular mass. The fact that you can delineate smooth and convex margins excludes effusion as the sole cause of this and, as such, a mass (neoplasia vs hyperplastic mass-like synovium) becomes the main differential diagnosis for this appearance. The primary intraarticular tumors (histiocytic sarcoma, synovial cell sarcoma, myxomatous neoplasia – myxoma vs myxosarcoma) can be difficult to definitively delineate radiographically, though anecdotally, histiocytic sarcoma and synovial cell sarcoma tend to be accompanied by aggressive osseous changes, whereas myxomatous lesions can have less profound or no osseous lesions and as such, a myxomatous tumor would be more likely (it should be noted, that these tumors can cause osteolysis so in a case with osteolysis, all differentials would be reasonable). Hyperplastic synovium, as with villonodular synovitis, would be relatively uncommon to occur without any degenerative changes.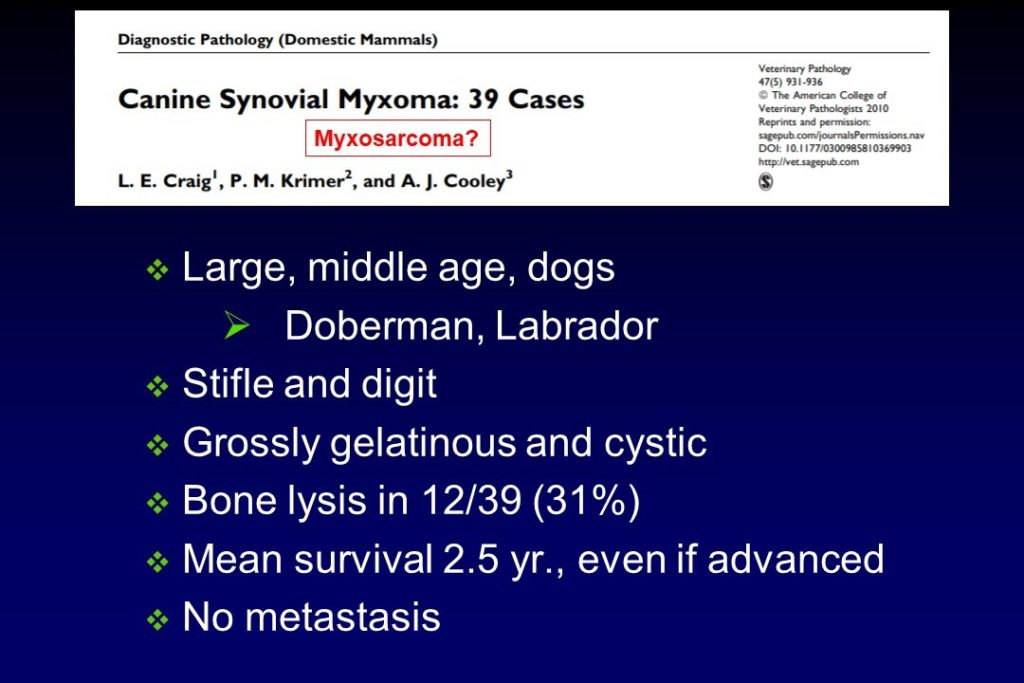 Photo by Anelale Nájera on Unsplash