This case was discussed in virtual Abdominal Rounds with Donald E. Thrall DVM, PhD, DACVR in August 2020. If you would like to be included on the invitation list to join rounds please read more.
History: The patient is lethargic and anorexic. Screening hematologic data were normal.
Radiographs: A lateral and ventrodorsal view of the abdomen were made.
To view these images in a new tab, right click and select "Open in new Tab".
Findings:
There is an extremely large segment of intestine that contains a large number of smoothly marginated, peripherally mineralized, objects.
The size of this intestinal segment obscures most of the other abdominal structures. Several small intestinal segments having a normal diameter are visible.
A small amount of fecal matter is present in the terminal portion of the descending colon.
There is a lumbosacral transitional anomaly giving the appearance of only 6 lumbar vertebrae.
Bridging spondylosis is present at L5-L6.
Conclusions and Discussion:
Although ingestion of a large number of foreign objects could be considered, the size, shape and peripheral mineralization of the intestinal structures are typical of enteroliths. Enteroliths are a type of gravel sign and form de novo in the intestine in patients with a chronic distal small intestinal obstruction, likely due to condensation and mineralization of foreign matter ingested incidentally. In one cat, enteroliths removed at surgery contained hair and stone-like material.1 The mineral composition was 61% calcium phosphate and 39% calcium carbonate.1 The mechanism of mineralization is not understood. Enteroliths are most common in cats and the primary lesion is usually a partially-obstructing neoplasm at or near the ileocolic junction, such as an adenocarcinoma or lymphoma. This patient was lost to follow up.
The patient in this report is somewhat atypical due to the large number of enteroliths that are present. It is more likely that a smaller number will be found (Figure 2).
More commonly in patients with a partial distal small intestinal obstruction, the dilated ileum will contain inspissated material having the appearance of fecal matter rather than enteroliths. This can create confusion when the dilated ileum is misinterpreted as colon, thereby reducing the suspicion for a distal obstruction (Figure 3).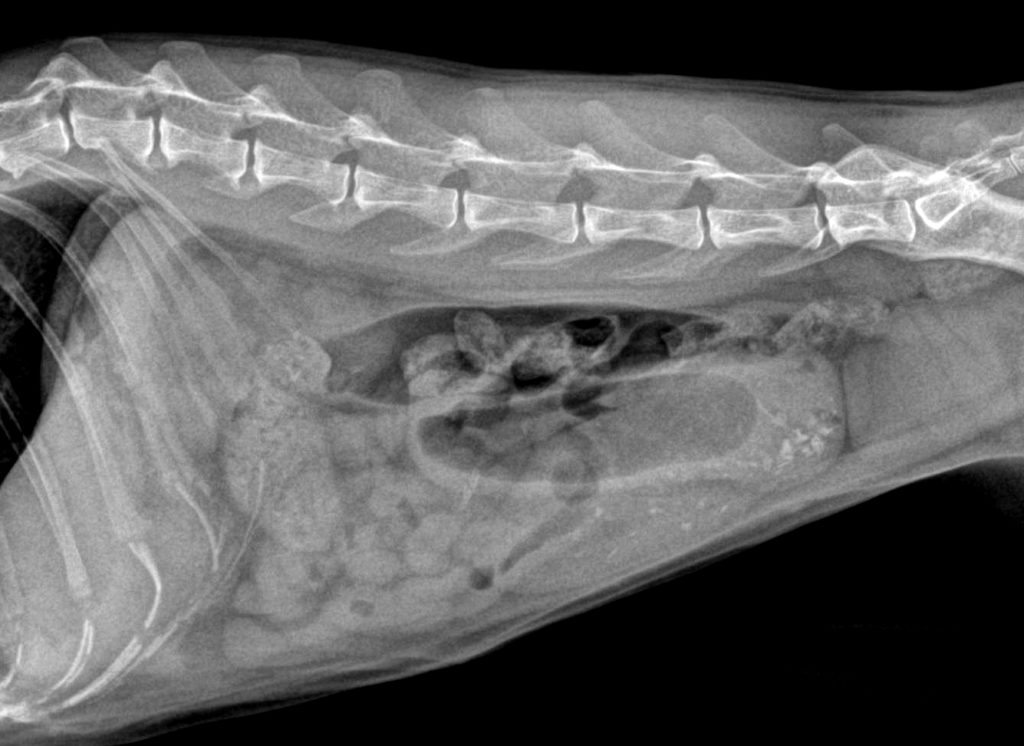 References:
Yuki M, Sugimoto N, Takahashi K et al. Enterolithiasis in a cat. Journal of Feline Medicine and Surgery 8, 349-352, 2006.
Photo by Lisa Algra on Unsplash