This is case 4 of 4 discussed in virtual Abdominal Rounds with Donald E. Thrall DVM, PhD, DACVR in June 2020. If you would like to be included on the invitation list to join rounds please read more.
History: Hypotensive. Hypoglycemic. History of mitral and tricuspid disease and pulmonary hypertension. Scant bicavitary effusion.
Images: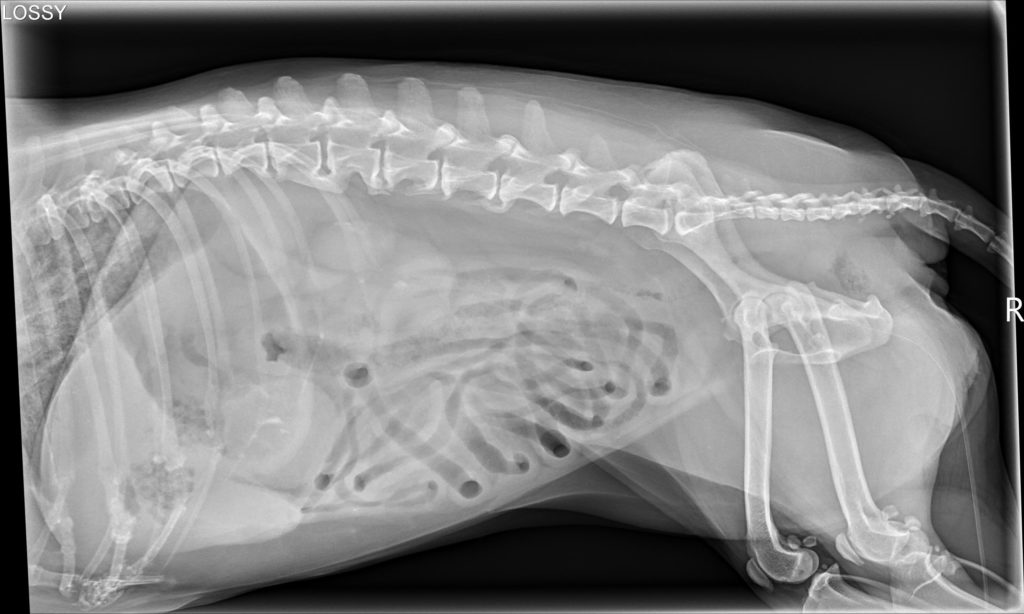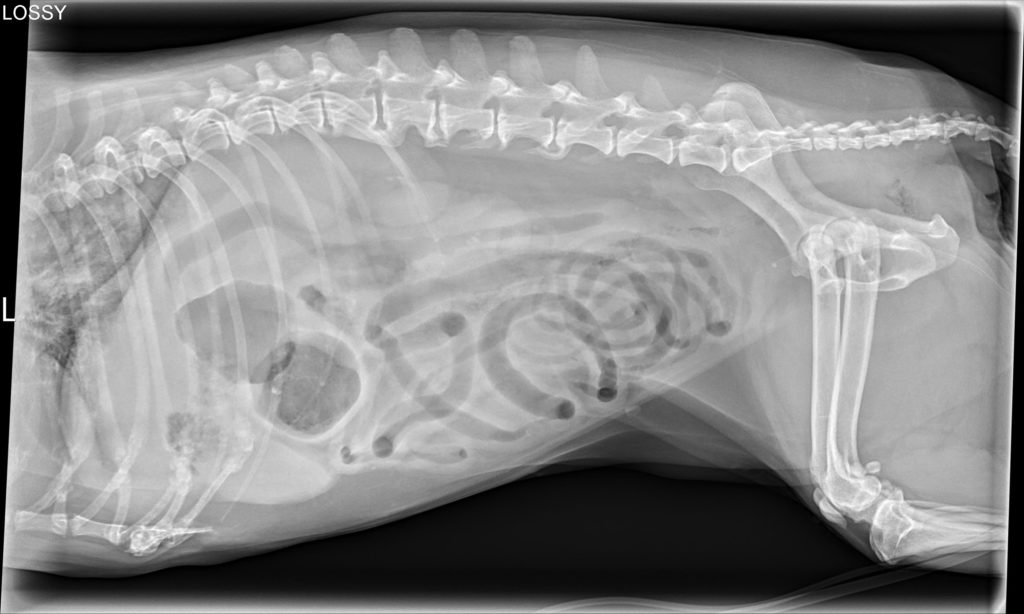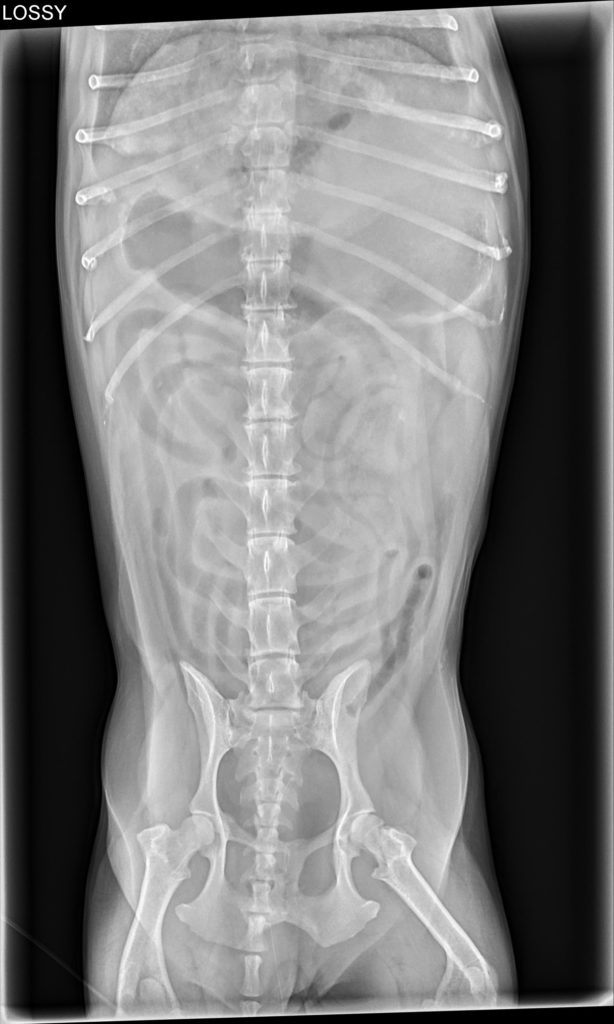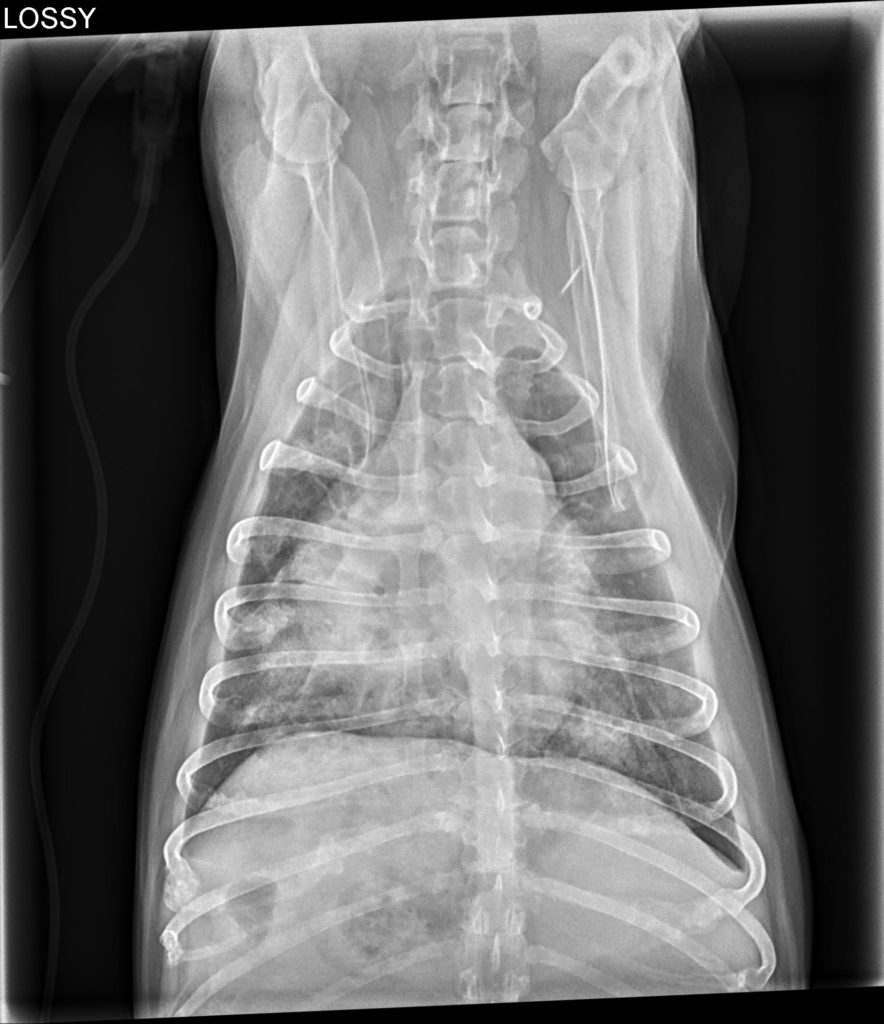 FINDINGS:
·The liver extends beyond the costal arch with mild rounding.
·There is a relatively well localized area of gas cavitation within the ventral aspect of the liver
·There are areas of mineralization in the collecting system of both kidneys. The renal margins are slightly irregular.
·A urethral catheter is in place with the tip at the bladder neck.
·There is a generalized loss of serosal contrast consistent with abdominal fluid.
·The small intestine is approaching the upper limit of normal for size and contains mostly gas with minimal evidence of peristalsis.
·There are multiple sites of lumbar spondylosis, several sites of thoracolumbar and lumbar disc space narrowing, osteoarthritis of the left coxofemoral joint and bilateral stifle osteoarthritis.
·There is a heterogeneous alveolar infiltrate in the dorsal-caudal aspect of the left and right caudal lung lobes.
·There are multiple thin fissure lines consistent with a small amount of pleural fluid.
·There is shoulder and elbow osteoarthritis.
CONCLUSIONS:
·The cavitary hepatic lesion is typical of a hepatic abscess. Whether the gallbladder is involved cannot be determined from the available images. An emphysematous hepatic mass, such as a neoplasm, is less likely but not ruled out.
·Most likely the abdominal fluid represents peritonitis secondary to the hepatic abscess.
·The appearance of the small intestine is consistent with paralytic ileus, potentially secondary to peritonitis.
·The distribution of the alveolar pattern is unusual for bacterial pneumonia although this cannot be ruled out. Other considerations include pneumonitis secondary to thromboembolism, including septic pulmonary emboli, and ARDS/SIRS.
·Most likely the small amount of pleural fluid is secondary to the extensive lung disease.
RECOMMENDATIONS:
·Complete screening abdominal ultrasonographic evaluation with potential sampling of abdominal fluid
·Exploratory laparotomy, depending on patient status.
RESOURCES: