History: The owner believes that the patient ingested chocolate. There is also fabric material hanging out of the rectum.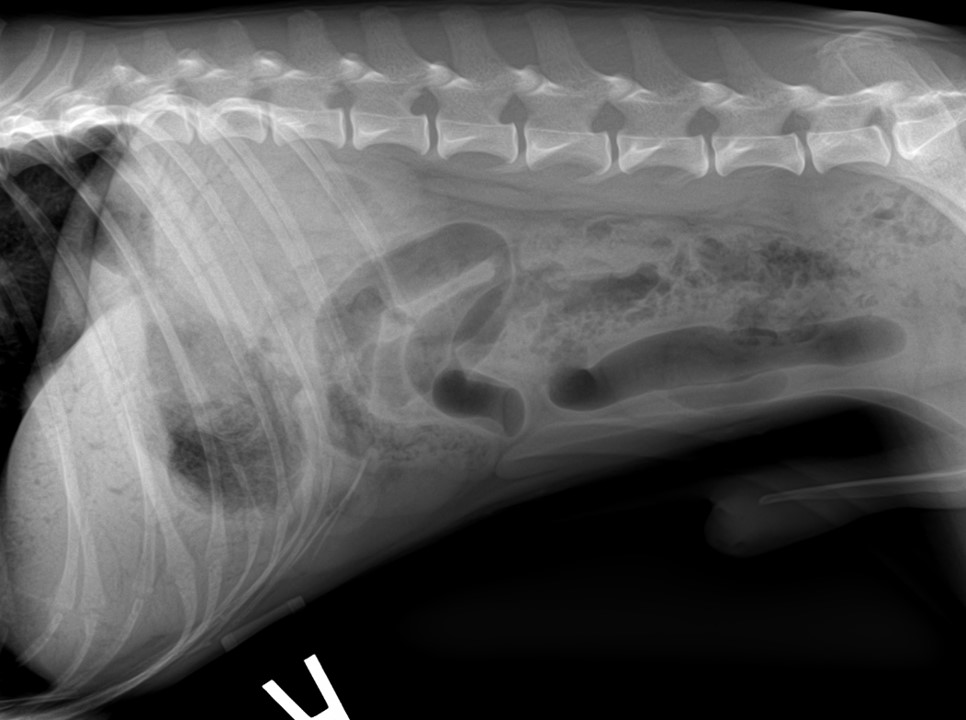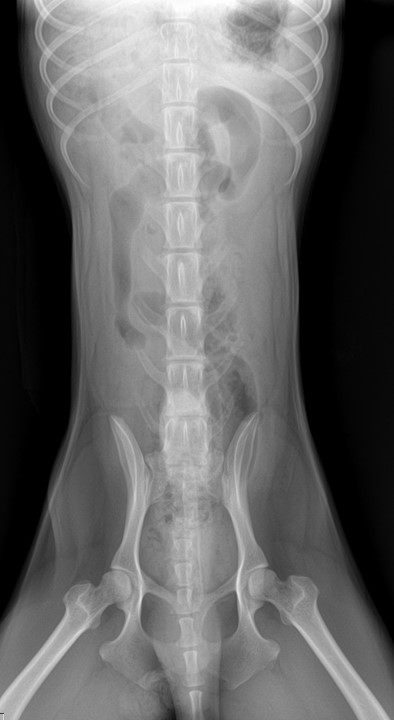 Findings:
There is amorphous material having a soft tissue opacity in the stomach. There is also a large amount of heterogenous content having a soft tissue and gas opacity within the colon. There is a cranial intestinal loop suspicious of small intestine that is at the upper limit of normal for size and contains gas. The spleen, left kidney, and abdominal serosal detail are unremarkable for a thin patient, while the right kidney and urinary bladder are not visible, due to superimposition and lack of abdominal detail.
There are branching linear gas opacities throughout the liver.
Conclusions:
The appearance of the gastrointestinal tract is consistent with intraluminal non-mineralized foreign material in the stomach and likely in the colon. There may be an early or partial intestinal obstruction but there is no evidence of a complete obstruction at this time.
The intrahepatic gas is consistent with portal venous gas. Based on the history, a primary consideration is H2O2 administration by the owner to induce vomiting. H2O2 diffusing into the gastric wall due to mucosal ulceration will result in 02 production that will transit into the portal venous system, and potentially beyond. When questioned, the owner confirmed giving one cup of H2O2. Other potential causes of portal venous gas include intestinal ischemia, necrotizing enterocolitis and sepsis.1 Biliary gas could also be considered but that is much less likely in this patient.
Recommendations and Discussion:
Depending on the clinical status of the patient, fasting and observation with follow up radiographs could be considered. An exploratory laparotomy would also be justified.
It is questionable whether this volume of intrahepatic gas will be clinically significant however the amount of H2O2 given was excessive. Whether the portal gas was significant in this patient is not known. The owner should be cautioned regarding the appropriate dose of H2O2; the correct dose is 1ml/pound of a 3% solution up to a maximum of 45 ml. This patient received approximately 240 ml.
H2O2 functions as an emetic through its mucosal irritant effects. If mucosal erosions develop, H2O2 will diffuse into the gastric wall where it interacts with catalase and O2 is produced.2 One ml of H2O2 will produce 10 ml of O2. Considering the mucosal ulcerations that have been observed in normal dogs following H2O2 administration, other forms of iatrogenic emesis should be considered.3
References:
1.Youssef EW, Chukwueke VS, Elsamaloty L, Moawad S, Elsamaloty H. Accidental concentrated hydrogen peroxide ingestion associated with portal venous gas. J Radio Case Rep 12:12, 2018.
2.Watt BE, Proudfoot AT, Vale JA. Hydrogen peroxide poisoning. Toxicol Rev 23:51, 2004.
3.Niedzwecki AH, Book BP, Lewis KM, Estep JS, Hagan J. Effects of oral 3% hydrogen peroxide used as an emetic on the gastroduodenal mucosa of healthy dogs. J Vet Emerg Crit Care 27:178, 2017.