SIGNALMENT: 7 month old, MN,boxer, canine.
SOURCE/HISTORY: Cystic mass on the right side of the neck.
MICROSCOPIC DESCRIPTION: This sample of subcutaneous tissue contains a well-demarcated cystic structure lined by stratified squamous epithelium which changes abruptly into ciliated transitional epithelium.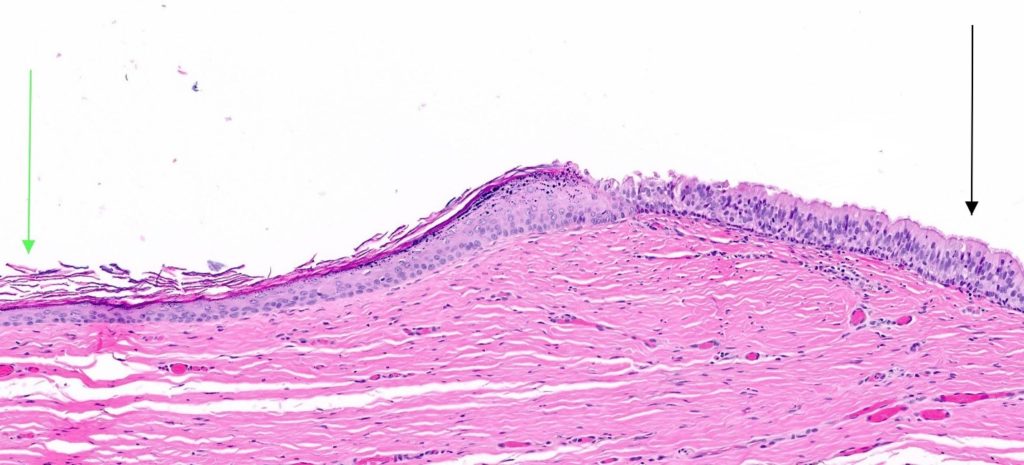 Click here for the IDEXX Pathology Report on this case.
MICROSCOPIC INTERPRETATION: Subcutaneous tissue: Branchial duct cyst, completely removed
COMMENTS: Branchial cysts are located lateral to the parathyroid/thyroid area and are attached deeply to cervical structures. These cysts arise from persistent embryologic pharyngeal pouches, arches are clefts of the thyroglossal duct. The space-occupying mass may cause clinical signs of compression of the surrounding structures. Very rarely, transformation to malignant tumors is reported. Excision is expected to be curative however it is often difficult to find the entire structure. CT evaluation is occasionally used to determine if there is communication with the pharynx.
PATHOLOGIST:
Nicole Kraipowich, DVM, MS
Diplomate, American College of Veterinary Pathologists