History: Approximately 3 days ago, the patient ingested pineapple leaves. The patient was seen to defecate a single pineapple leaf 2 days ago. Since then the patient has been lethargic, and anorexic, with frequent vomiting.
The patient is lethargic with tacky mucous membranes. There are mild decreases in Na, K and Cl; the remainder of the parameters were normal.
Images: Left lateral, right lateral and ventrodorsal radiographs of the abdomen were acquired.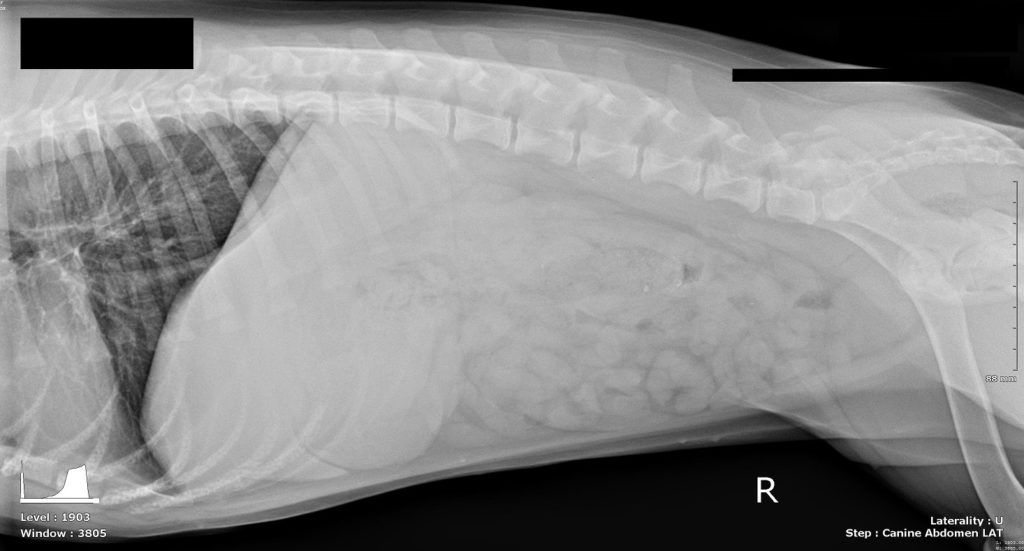 Findings: There is a small amount of gas and fluid dilation of the stomach. The stomach contains a small amount of granular mineral material in the pyloric outflow region. This is seen extending into the descending duodenum on the ventrodorsal projection. There is granular soft tissue opacification seen within the region of the duodenum on the left lateral projection however some of this could be fecal material. The small intestines are otherwise unremarkable and not significantly distended. No other abdominal abnormalities are noted. The portion of the thorax included on the study is within normal limits.
Conclusions: This type of distention of the stomach and the mineral material seen within the pyloric outflow region and the descending duodenum is most consistent with a proximal small intestinal mechanical obstruction and this is the primary consideration.
Recommendations/Follow up: An exploratory laparotomy is justified and was performed. A barium study or abdominal ultrasound examination could be considered but the survey radiographs support an exploratory. A cloth toy was found obstructing the duodenum and was removed successfully, resulting in a happy ending.