Signalment: 12 year old F/S Tibetan terrier
History: Patient has a phthisical right globe with two masses noted dorsal and caudal to the globe. Appears to be intraconal on US. Aspirates represent the masses. Additional clinical information was provided following original cytology report: patient had a small mass removed from right dorsal conjunctiva 3 years prior that was diagnosed as a hibernoma.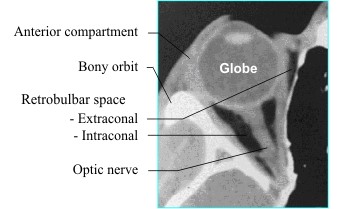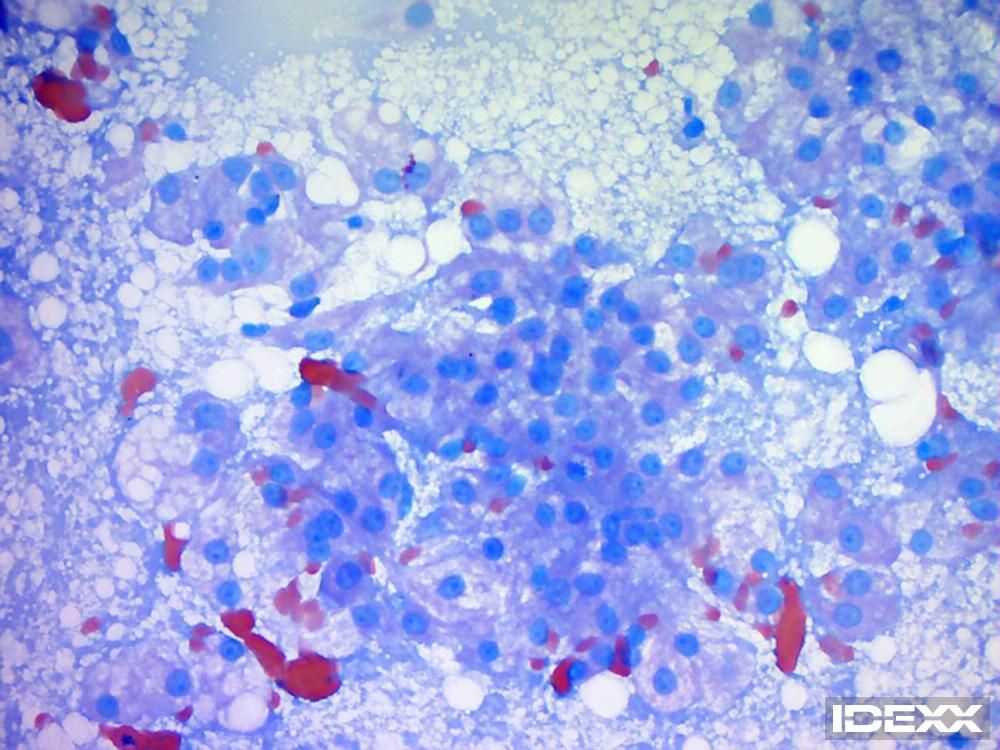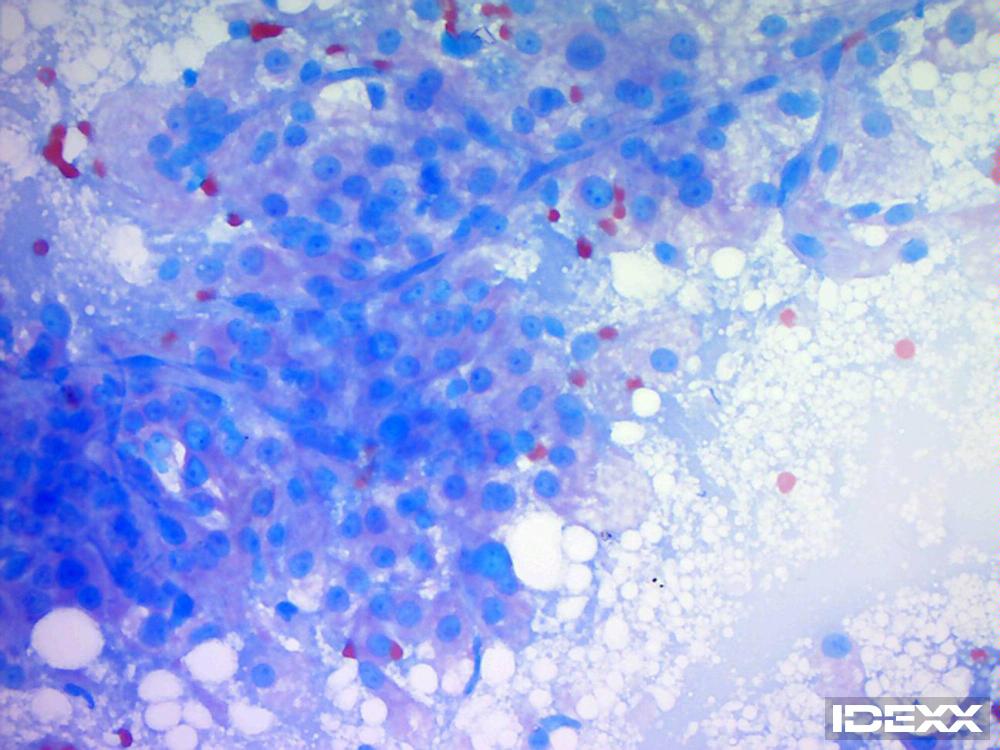 Click here for the IDEXX Pathology Report on this case.
Microscopic Description: The smears contain rare erythrocytes and high numbers of nucleated cells comprised predominantly of a population of oval to blunted spindloid cells that are found primarily in large aggregates, often with interweaving capillary structures, with fewer individual cells within a pale basophilic background. The cells have moderate amount of fine, eosinophilic cytoplasm with indistinct cell borders, and round to oval nuclei with finely stippled chromatin and 1-2 small nucleoli. Occasional cells had moderate numbers of variably distinct clear cytoplasmic vacuoles. Mild to moderate anisocytosis and anisokaryosis are present.
Microscopic Interpretation: Neoplasia; suspect mesenchymal cell origin.
Discussion: Initial primary consideration for this mass was a meningioma arising from optic nerve; however, certain features including whorl formations and intranuclear cytoplasmic evaginations, which have been described in some meningiomas, were not observed in the smears. Additionally, cytoplasmic vacuolation, observed in low numbers of cells in aspirate, is not a typical feature of meningioma.
Cytologic appearance of a hibernoma has not been described (to my knowledge) in dogs; however, the histologic features of orbital hibernomas in dogs have been characterized. On histologic evaluation, the neoplastic cells in hibernomas are large, round to polygonal and closely opposed to each other and to ramified small capillaries. Cells have moderate amounts of granular, pale to deeply eosinophilic cytoplasm with or without vacuoles admixed with larger, multivacuolated or univacuolated neoplastic cells resembling adipocytes. Nuclei are round to oval with finely stippled chromatin and 1-3 nucleoli.
Histologic evaluation of this mass (performed at UGA-written communication with Dr. Melinda Camus) was consistent with a hibernoma.
Immunohistochemistry for UCP1 (uncoupling protein 1) has been used to confirm the diagnosis of hibernomas in humans, rodents, and dogs. To my knowledge, immunohistochemistry was not performed at UGA.
It is possible these tumors could arise from activated "dormant" brown adipose tissue that has the morphological appearance of white adipose tissue but represents preadipocyte brown fat cells.
Treatment by complete excision should be curative.

References: Ravi M, Schobert CS, Kiupel M, and Dubielzig RR. Clinical, Morphologic, and immunohistochemical Features of Canine Orbital Hibernomas. Veterinary Pathology 2014; 51 (3) 563-568.