SIGNALEMENT:
3 years-old German Shorthaired Pointer, canine, gender not provided.
SOURCE/HISTORY:
Regurgitation vs vomiting May 2018. Frozen episodes while eating lasting 5 minutes. Resolved while on prednisone soft stools with mucus and blood may 2018. 2.5 pounds' weight loss since June 12. June 2018 Fluoro swallow negative, radiographs negative, ACTH stimulation negative, lytes normal, TLI/PLI/cob/folate wnl. April 2018 – Alb 2.8 otherwise cbc, biochemistry wnl, phenobarbital level low at 17.5. January 2018  – Alb 1.8- blood loss during amputation, alb 2.4 prior to HBC January lost LF. Seizures on phenobarbital. Stomach, small intestine and colon sampled via endoscopy.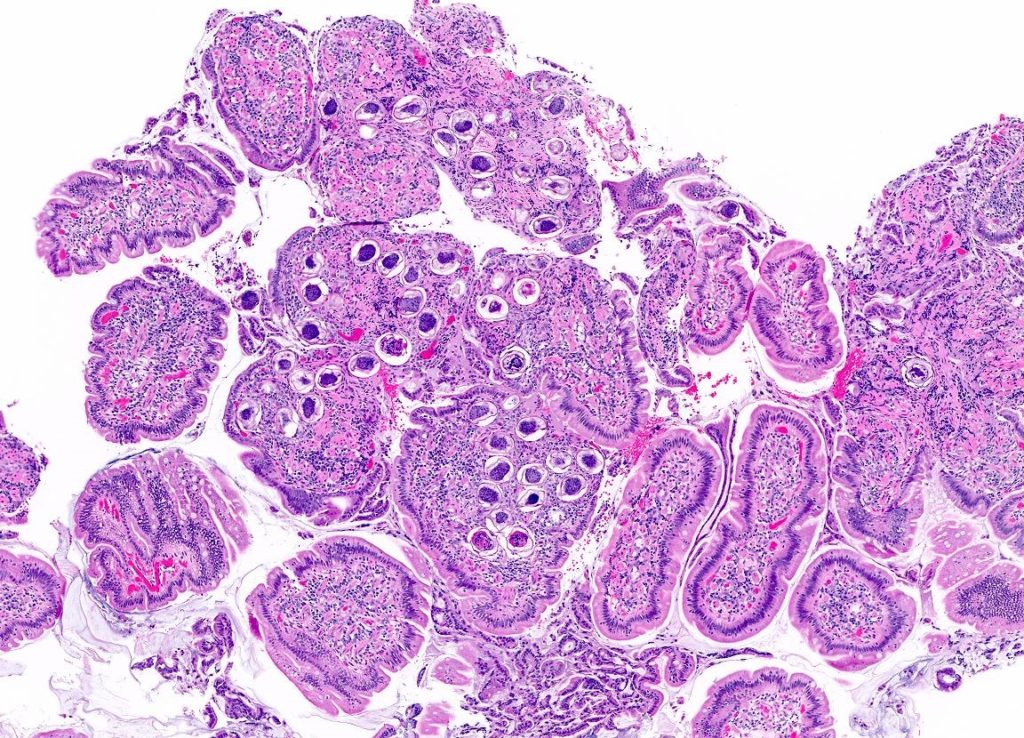 Click here for the IDEXX Pathology Report on this case.
MICROSCOPIC DESCRIPTION:
Stomach: The gastric mucosa is intact. The lamina propria contained a low number of lymphocytes and plasma cells. The epithelial cells lining the glands/crypts are normal.
Small intestine: The lamina propria contained a moderate number of lymphocytes and plasma cells along with fewer macrophages. Embedded in the lamina propria is a large number of rounded to oval eggs with yellowish capsules.  The eggs have an oval shape, (~90×70 micrometers) are operculated, contain a fully developed miracidium.  The villi are blunted. Lymphatics are normal.
Colon: Embedded in the colonic mucosa is a moderate number of previously described eggs with associated mild to moderate lymphoplasmacytic to granulomatous inflammation.
MICROSCOPIC INTERPRETATION:
Stomach: Gastritis, mild, lymphoplasmacytic.
Small intestine: Enteritits, lymphoplasmacytic to granulomatous, moderate, with large numbers of termatode eggs interpreted to be Heterobilharzia americana.
Colon: Colitis, lymphoplasmacytic to granulomatous, mild to moderate, with moderate numbers of termatode eggs interpreted to be Heterobilharzia americana
COMMENTS:
The changes in the stomach were minimal and likely of no clinical significance. A significant/large number of Heterobilharzia eggs were embedded in the mucosa of the small intestine and colon. These are associated with inflammation. These are likely the cause of or a significant contributing factor for the clinical signs of this patient. If the clinical signs of this patient persist despite adequate treatment for this condition, rebiopsy may be indicated in case another, underlying, more subtle disease process is present.
Heterobilharzia americana is a trematode that is closely related to Schistosoma spp., which is known to infect humans in emerging countries. Transmission is via penetration of the skin by cercariae. The intermediate host is a snail which lives in bodies of water. The natural reservoirs for H. americana are raccoons and other varmints.
The clinical diagnosis is generally made by demonstration of the egg in feces or by histopathology of intestinal or liver biopsies. However, the trematode egg can only be identified by sodium chloride sedimentation. As fecal sedimentations are not routinely performed in clinical practice, a PCR-based assay for the detection of DNA from the eggs in feces or biopsy samples of liver or intestine can be performed. The PCR is highly sensitive and reliably detects 1-2 eggs per gram of feces.
PATHOLOGIST:
Genevieve Remmers, DVM
Diplomate, American College of Veterinary Pathologists
Direct: 901-565-2151
1-888-433-9987, option 0, x52151
E-mail: Genevieve-Remmers@idexx.com