History: Previous clinical signs, bloodwork and ultrasound suspicious of acute pancreatitis. Patient recovered well after symptomatic treatment, though sonographic abnormalities are still present in the area of pancreas and stomach.
Imaging:  Pre and post-contrast enhanced abdominal CT (1.5 mm in medium frequency/soft tissue algorithm)
Images: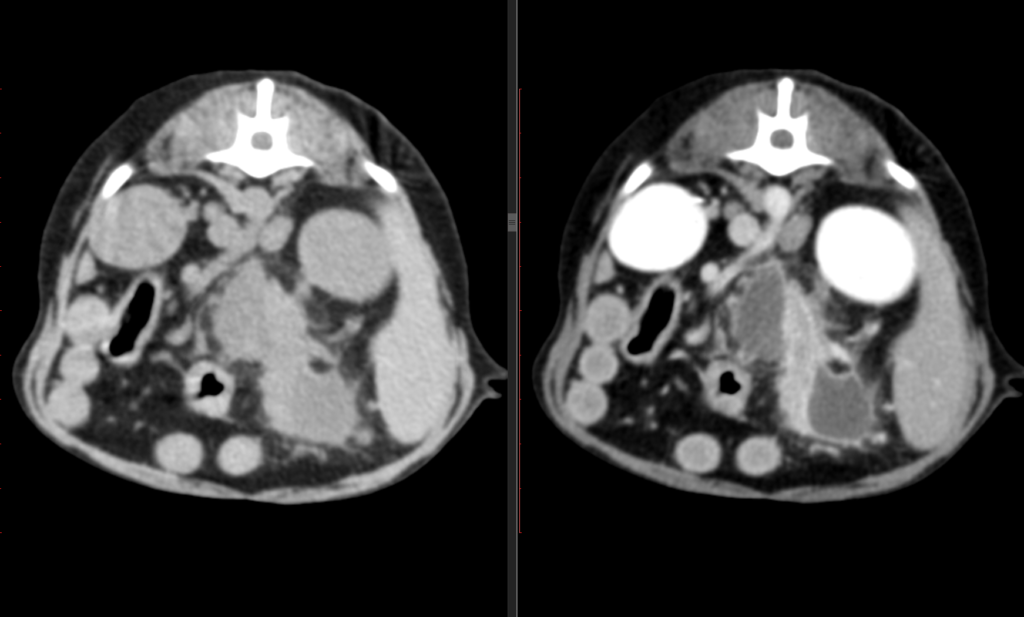 Conclusions:
There is evidence of active pancreatitis manifesting as pancreatic enlargement, mild peripheral lobulation, heterogenous and increased contrast enhancement, and adjacent fat stranding. Associated with the body and left lobe of the pancreas are three thin walled, cystic lesions. These cystic lesions are most consistent with pancreatic pseudocysts or abscesses.

Pancreatic pseudocysts and abscesses are uncommon to rare sequelae of acute pancreatitis in small animal patients (interestingly, these diseases are somewhat common in humans that suffer from previous acute pancreatitis). These lesions have been defined as follows (Fossum 2013): pancreatic abscesses are a collection of purulent material and necrotic tissue within and extending from the pancreatic parenchyma. Pancreatic pseudocysts are collections of pancreatic secretions and cellular debris enclosed within a wall of granulation tissue or fibrous sac that lacks an epithelial wall. Pancreatic pseudocysts have also been called pancreatic cysts.

Drainage of these lesions can be considered and medical management for pseudocysts with repeated drainage as necessary has been reported as a viable management strategy, though surgery is often required for long term control, especially if there is biliary obstruction or sterile or septic abscessation. A single case report of attempted ethanol ablation of a pseudocyst has been described, though was fatal in the patient in the report so is not currently recommended.
References:
Fossum TW, editor. Small animal surgery. 4th ed. St. Louis, Mo: Elsevier Mosby; 2013.

Anderson, Jonathan R., Karen K. Cornell, Nolie K. Parnell, and S. Kathleen Salisbury. "Pancreatic Abscess in 36 Dogs: A Retrospective Analysis of Prognostic Indicators." Journal of the American Animal Hospital Association 44, no. 4 (July 2008): 171–79.

https://doi.org/10.5326/0440171

.

NEMOTO, Yuki, Tomoya HARAGUCHI, Takako SHIMOKAWA MIYAMA, Kosuke KOBAYASHI, Kaori HAMA, Yosuke KUROGOUCHI, Noriyuki FUJIKI, Kenji BABA, Masaru OKUDA, and Takuya MIZUNO. "Pancreatic Abscess in a Cat Due to Staphylococcus Aureus Infection." The Journal of Veterinary Medical Science 79, no. 7 (July 2017): 1146–50.

https://doi.org/10.1292/jvms.17-0026

.

Sadler, Ryan A., Erica L. Fields, and Jacqueline C. Whittemore. "Attempted Ultrasound-Guided Ethanol Ablation of a Suspected Pancreatic Pseudocyst in a Dog." The Canadian Veterinary Journal 57, no. 11 (November 2016): 1169–74.

Thompson, Lisa J., Ravi Seshadri, and Marc R. Raffe. "Characteristics and Outcomes in Surgical Management of Severe Acute Pancreatitis: 37 Dogs (2001–2007)." Journal of Veterinary Emergency and Critical Care 19, no. 2 (April 1, 2009): 165–73.

https://doi.org/10.1111/j.1476-4431.2009.00401.x

.

VanEnkevort, Bruce A, Robert T O'Brien, and Karen M Young. "Pancreatic Pseudocysts in 4 Dogs and 2 Cats: Ultrasonographic and Clinicopathologic Findings," n.d., 5.