This series highlights members of IDEXX Telemedicine Consultants as they discuss their individual career paths, passions and provide words of wisdom for fellow Veterinary Radiologists planning their careers.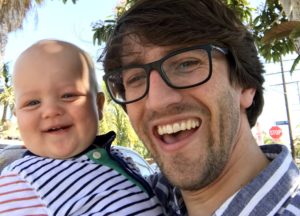 Mason Savage DVM, DACVR
Role at IDEXX Telemedicine: Radiologist, Employee.  Member of the Cross-Sectional Imaging Team (XSSO), IDEXX educational outreach through CaseConnexx blog and our annual Diagnostic Imaging CE Event.
Undergraduate Studies: Animal Science at University of Georgia
Vet School: University of Georgia
Residency: North Carolina State University
Share a memory from your residency: I remember many, many late night on-call ultrasounds where I was able to provide information that wouldn't have been available otherwise. There was always something special about driving home in the very late night hours, worn out and dreading the pending exhaustion of the following day, but it was amazing knowing that I was a small part of a larger team that just helped to save a life.
Why did you choose a career as a Veterinary Radiologist? In my internship I quickly found that the diagnostic hunt was so much more rewarding to me than the therapeutic side of medicine. I found Radiology allowed me to work with my favorite parts of medicine (anatomy, physiology, pathology) while working with others to help improve the health and quality of life of their patients.
Passions/interests: I am a new father and have found this to be the most rewarding/challenging experience that I have ever undertaken! Beyond that, I love teaching, outdoor activities (like skiing, running, cycling), and I am always trying to become a better cook/barman, though sometimes this is tough sledding.
Inspirational insights for new Radiologists entering the workforce: You are entering, in my opinion, the most exciting career path available to veterinarians at the most exciting time since the advent of radiography. The confluence of technology and progression in public perception regarding animal health and care has contributed to the rapid rise in need for Veterinary Radiologist. As you embark upon this career, try to embrace the diverse opportunities available to you and, if possible, repay your debts to those who paved the road ahead of you by contributing to the training of the next generation of Veterinary Radiologists (however large or small that contribution may be)!
What is your favorite thing about Veterinary Radiology? I love being able to help a wide variety of clinicians, from new general practitioners to seasoned specialists. It would also be untrue if I didn't mention that I value my ability to put the care of these patients in the hands of those better suited to treatment and follow-up!
Do you have a favorite imaging modality and why? I don't have a single modality that I prefer over others. At this point in my career, I've found that I tend to love certain disease processes more than others and I love seeing the ways that these diseases can manifest in different patient populations and through different modalities. If I was only to work with one modality for the remainder of my career, I would feel incomplete.
What do you enjoy about your position with IDEXX? As trite as this might sound, the people are the best that I've found. I absolutely love my Radiologist colleagues with their collective and diverse wisdom and their willingness to pitch in to help out on a weird case. IDEXX also has a technical support team that is beyond phenomenal and makes my life working with IDEXX so easy. Lastly, the IDEXX clientele have been so great to interact with.
What tips would you like to share with Radiologists interested in Telemedicine? Jump in! It is a bit of a unique skill set and it might take a little time to get acclimated to reading for an audience that you don't know well. Once you develop this skill set, you will likely really enjoy the cases you see and the ability to help lots of patients and veterinarians throughout the world.
Tips on how to prepare for and then finally take boards: For written boards: read as much as you can, try to teach others as you go, and try to be able to find connections in the material (for instance, don't study physics in a bubble – artifacts help us to understand the underlying principles of imaging modalities, so referencing those topics to each other can be very helpful). For oral boards: trust your training. For the last year of your residency, I think it's helpful to really step out of your comfort zone in terms of your responsibilities.
Are there telemedicine myths you'd like to bust? The idea that you're working alone and in a bubble is silly and not true to me. During my at home shifts, I often have great contact with colleagues, referring hospitals, and I will often leave my shift feeling relatively relaxed and productive compared to hectic times at a hospital being pulled between multiple modalities and specialists.
Do you have suggestions for those planning to work at home? Invest in items that will improve your workflow. This is a bit different for everyone, but I love my standing desk, ergonomic mouse, and multi-monitor setup. I'm also a huge fan of listening to relaxing music to help stay in a positive mood.
What other information would you like to highlight about our team? They're pretty amazing all around.
Share a memory of a life event and how it has shaped you today? In regards to radiology life events, I will never forget my residency interviews with Dr.'s Don Thrall and Ian Robertson. In a brief summary, Dr. Robertson in no uncertain terms informed me that I was likely unfit to become his radiology resident and was very curious about any future life plans that I had beyond radiology. Dr. Thrall additionally informed me that he could probably train even a monkey to be a radiologist (a perspective I still finding amusing and somewhat true to this day), though he would have to want to train me for that relationship to work. I thought my interview with him was going relatively well until I asked him for a letter of reference for the match, at which point he informed me that he did not know me well enough to write a letter of reference without someone writing a letter of reference for me to him on my behalf (it got pretty meta pretty quickly). Needless to say, these interviews were not the most inspiring, but I truly took them in stride and was shocked when I found out that I would be training under these radiologists in addition to the other phenomenal faculty at NCSU (particularly Dr. Seiler).
Tell us what your perfect day looks like: Usually an early-morning rise with my toddler, followed by homemade breakfast/brunch, a day of relaxing outdoors (possibly watching UGA football?! GO DAWGS), and a quiet night with my lovely wife!
If you'd like to learn more about Telemedicine with IDEXX, email us today!
Angela-Skidmore@idexx.com