Signalment: 10-year-old, male DLH cat
History/Physical exam: 6 cm firm mass on lateral right rear leg, some serous fluid on aspiration. Noted about a month ago, by owner. Concurrent blood work relatively unremarkable.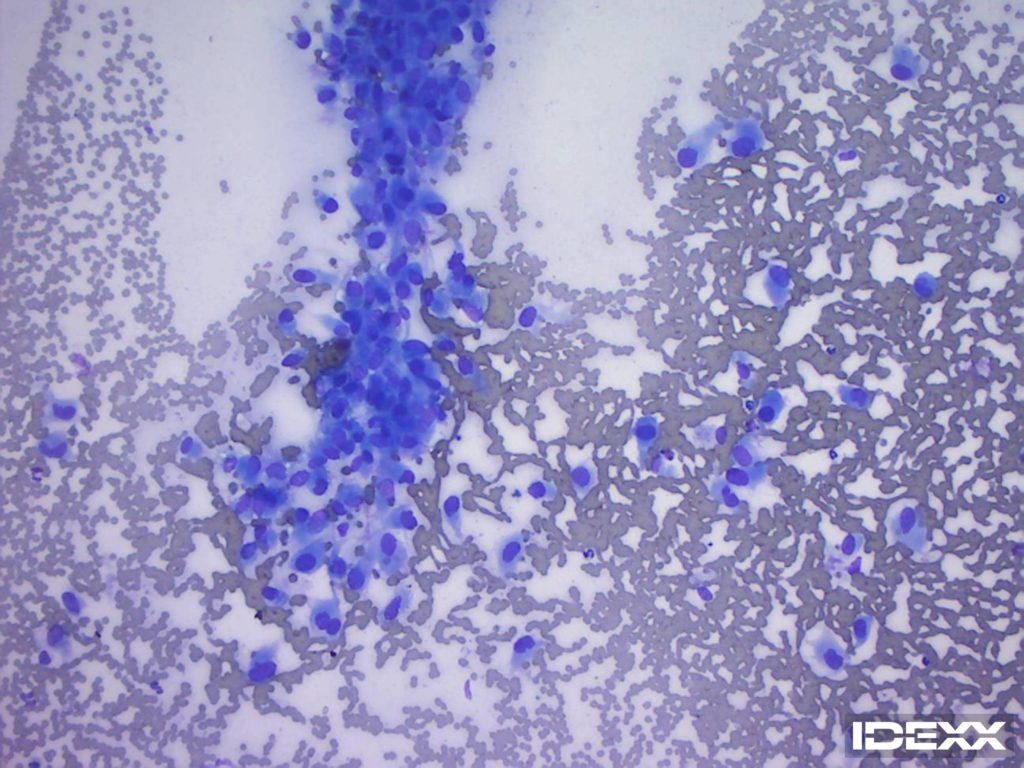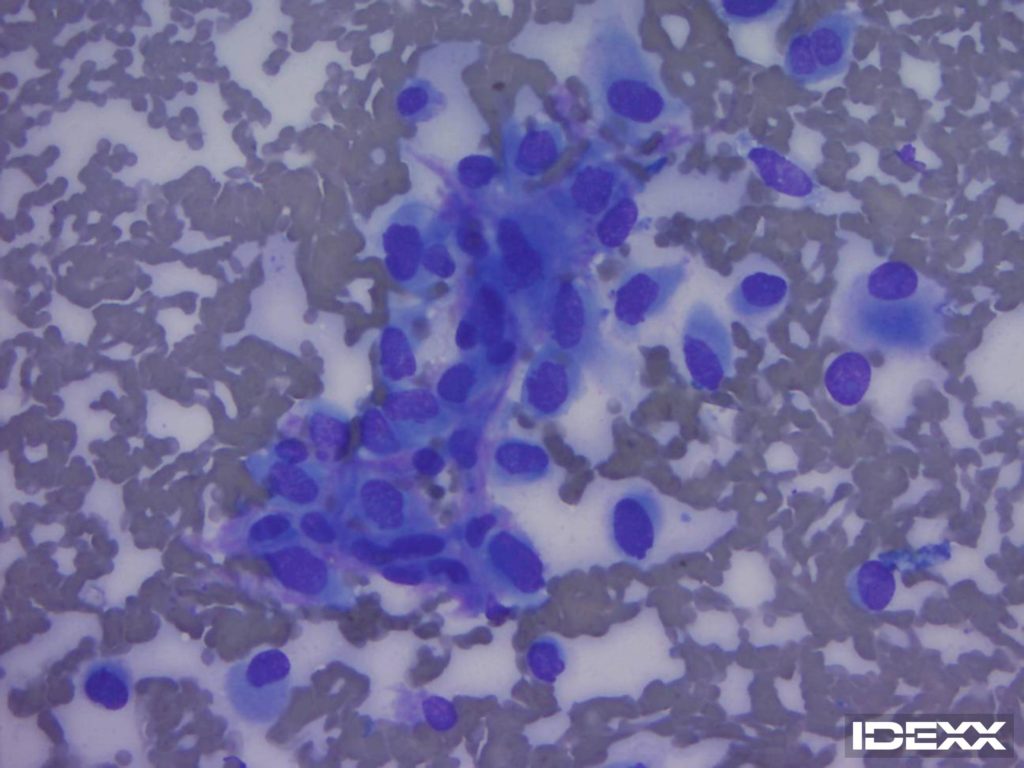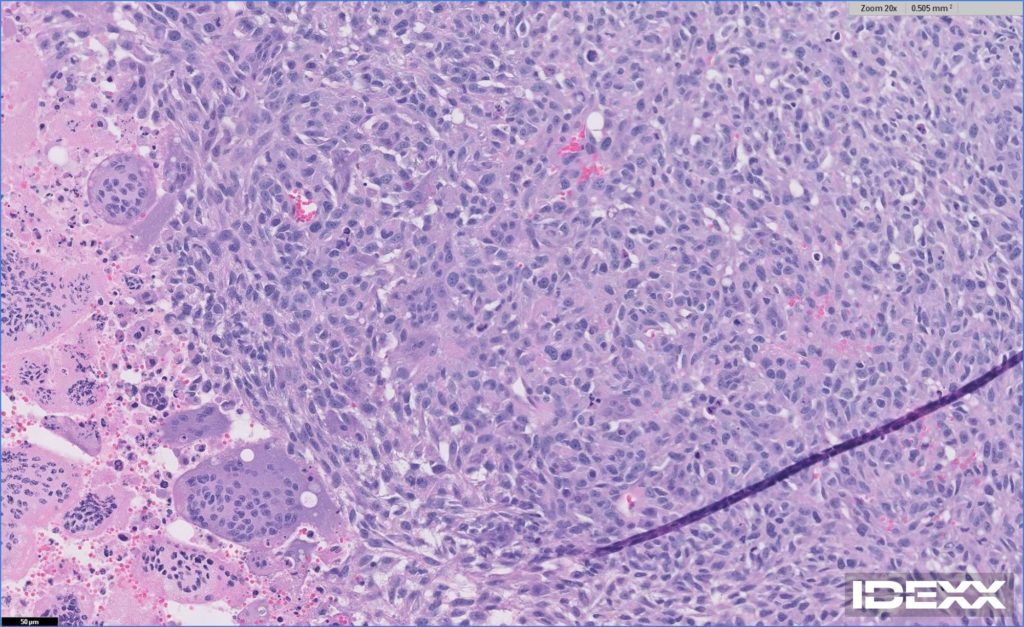 Click here for the IDEXX Pathology Report on this case.
Microscopic description (cytology):  Slides are of low to moderate cellularity and consist of a population of mesenchymal cells in a background of moderate blood.  Mesenchymal cells are individually oriented and noted in variable sized aggregates occasionally with associated pale pink extracellular matrix. Mesenchymal cell nuclei are round to oval with coarsely stippled chromatin and often prominent round and multiple visible nucleoli.  Cytoplasm is moderately abundant, basophilic, wispy, often tapered and occasionally contain few punctate vacuoles and/or pink granulation.  Moderate atypia including anisokaryosis, nuclear blebs, binucleation and mitotic figures is appreciated. Few multinucleated giant cells (up to 15+ nuclei) and vacuolated macrophages are noted. No infectious organisms are seen.
Microscopic interpretation/comments (cytology): Mesenchymal cell proliferation with atypia; consistent with sarcoma
This mass exfoliated well and cells are mesenchymal in origin. The cells are exhibiting a moderate degree of atypia with large multinucleated cells. Considerations include anaplastic sarcoma with giant cells (formerly malignant fibrous histiocytoma), osteosarcoma, fibrosarcoma or other sarcoma. If not already done, radiographs to rule in/out bony involvement is warranted. Histopathology of excised tissue is recommended to obtain a final diagnosis and to offer a prognosis.
Microscopic description (histopathology): Expanding the deep dermis and subcutis is an unencapsulated, relatively well demarcated, densely cellular, infiltrative mesenchymal neoplasm, composed of dense sheets of spindle to polygonal to multinucleated giant cells that are arranged in sheets, perivascular whorls, and ill-defined bundles. Neoplastic cells have one to many vesicular nuclei. There is marked anisocytosis and moderate anisokaryosis. Mitotic count is high. The mass contains a large area of necrosis and hemorrhage.
Microscopic interpretation (histopathology):  Anaplastic sarcoma, with giant cells
Mitotic count: More than 20 per 10 HPFs
Margins: The narrowest lateral margin is 3.7 mm; while the deep margin is 0.35 mm.
Vascular invasion: Not noted

Discussion: The terms "anaplastic sarcoma with giant cells" or "undifferentiated pleomorphic sarcoma" (formerly known as "malignant fibrous histiocytosis" and "giant cell tumor of soft parts") are generic terms used when the exact origin of a sarcoma cannot be determined by morphology or immunohistochemistry. The neoplasms in this category all have the similar findings of a combination of spindle cells and multinucleated giant cells. Various anaplastic versions of rhabdomyosarcoma, fibrosarcoma, vaccine-associated sarcoma, myofibrosarcoma, liposarcoma, leiomyosarcoma, histiocytic sarcoma, and synovial cell sarcoma can appear similar.
True anaplastic sarcomas with giant cells are uncommon masses often found on legs and shoulders of older dogs and cats. These tumors are usually solitary, large, firm, poorly circumscribed, subcutaneous or dermal, possibly alopecic and/or ulcerated. The behavior of these tumors ranges from locally invasive and variably metastatic to highly aggressive and may reflect the different cellular origins.
The giant cells in these tumors ranges from few to many and may not be evenly distributed. These cells may be part of the neoplastic population (same IHC profile as the spindle cells – vimentin positive along with other more specific cellular origin markers) or they may represent reactive histiocytic cells (leukocyte origin on IHC – CD18 and CD45 positive).
References:
Hendrick M. Mesenchymal Tumors of the Skin and Soft Tissues. In: Meuten DJ ed. Tumors in Domestic Animals. 5th ed. Ames; Wiley, 2017:150-1.
Gross TL et al. Other mesenchymal tumors. In: Skin Diseases of Dogs and Cats. 2nd ed. Ames; Blackwell, 2005:806-10.