This series highlights members of IDEXX Telemedicine Consultants as they discuss their individual career paths, passions and provide words of wisdom for fellow Veterinary Radiologists planning their careers.
Maria Evola, DVM, MPH, DACVR
Role at IDEXX Telemedicine: Part time Consultant
Undergraduate Studies: Hendrix College
Vet School: University of Missouri
Residency: North Carolina State University
Share a memory from your residency: I had a phenomenal team helping me along the whole time.  One favorite time was when one of our team members was about to start a job at another university, and a bunch of the residents and some radiologists surprised her by showing up at her house at 6:30 in the morning with a pot of coffee and some donuts to wish her farewell before she started the drive at 7.  Everyone had all the feels.
Additional Education/Training: Rotating internship at Garden State Veterinary Specialists in New Jersey and Specialty radiology internship at Animal Specialty and Emergency Center in Los Angeles.
Why did you choose a career as a Veterinary Radiologist?  In undergrad, I considered liguistics as a course of study. While I chose medicine because it's illegal to do medicine as a hobby, but easy to do crosswords as a hobby,  I think that my interest in words, and what they mean, where they come from, and implications behind them ties in really well with working as a radiologist even though I didn't think about it at the time.  Radiology is really a perfect combination for me.  I love seeing new and unusual things, working with really smart specialists in different fields, the fancy equipment, fast pace of patient turnover, and potential for immediate gratification. Most of all, the people I get to work with are some of the best folks I know.
Passions/interests: I really love my dog. A lot.  And Halloween!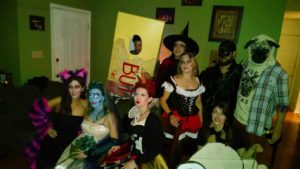 Tips on how to prepare for and then finally take boards:  Prelims: Hang in there. It gets better.  Certifiers:  Stay in the room and say something about each case.  Say what you see and then what you think. If you see something, say something. Do not make things up.  With radiographs, your first impression is probably correct. You will not know everything, this is normal and expected. How you recover from a case is much more important than botching it to begin with.
Do you have suggestions for those planning to work at home?  I take my dog for a long walk or run before my shift starts so he falls asleep while I'm working. It helps me concentrate more if he's not trying to use his cuteness to get attention! It also helps make sure I get some Vitamin D before being inside for a few hours.    Also, I love my standing desk. Even when I travel, I stack things up so I can work standing.
What other information would you like to highlight about our team?  Everyone is so helpful! I've emailed the group to get suggestions about a tricky case and get multiple answers really quickly. I  love the collective knowledge and sharing that occurs within the group.
Tell us what your perfect day looks like:  I'd like some combination of being outside, physical activity, creating something tangible, seeing interesting cases,  sharing them with interesting people to geek out together, delicious food, and easy stimulating conversation with smart people. Ideally, I'd talk about how to use words and their meanings. I love words.
Tell us about the animal companions in your life:  A dog named Marlin who is the Platonic ideal of what a dog should be.  2 African Gray parrots for whom we are the 3rd owners each. They are so different from one another and their behavior is so fascinating.  Harley speaks to boss the dog around when he's being noisy. "STOP IT!" "GO LAY DOWN!" (She learned those phrases from the last owners!) A small flock of backyard chickens who are always teaching me new things about farming and livestock and behavior.
If you'd like to learn more about Telemedicine with IDEXX,  email us today!
Angela-Skidmore@idexx.com