Species: Canine
Breed: German Shepherd dog
Age: 1y
Gender: MALE, INTACT
Source/History:                                                              
FNA of golf ball-sized intradermal mass on right lateral thigh. Present for 2 months.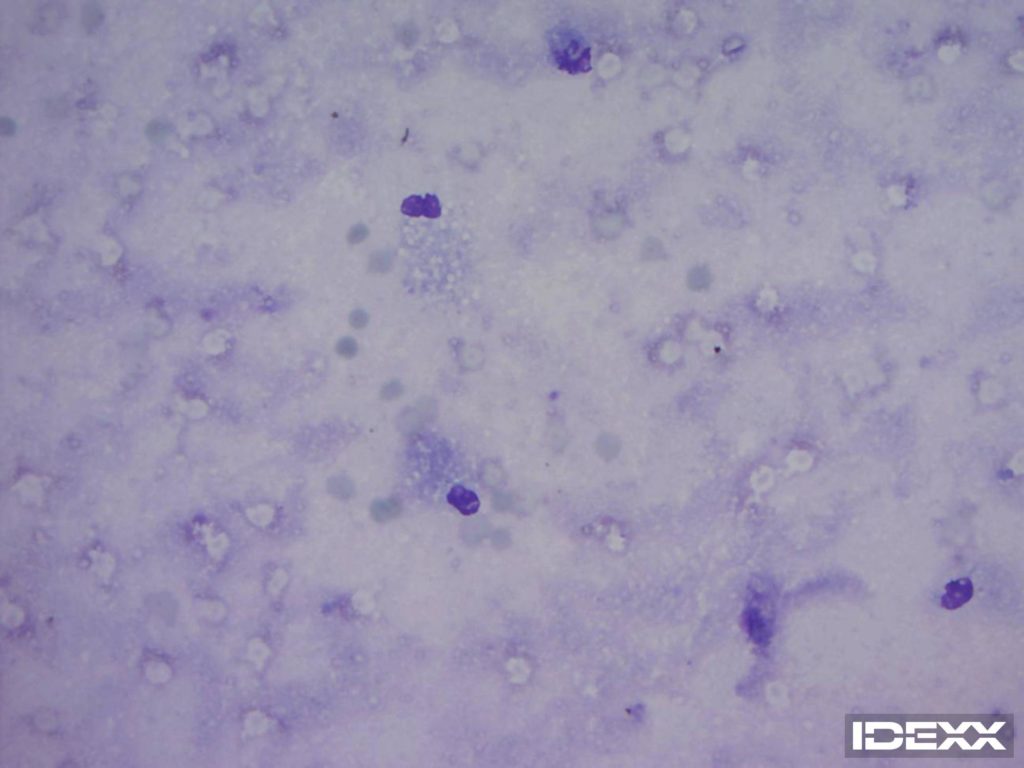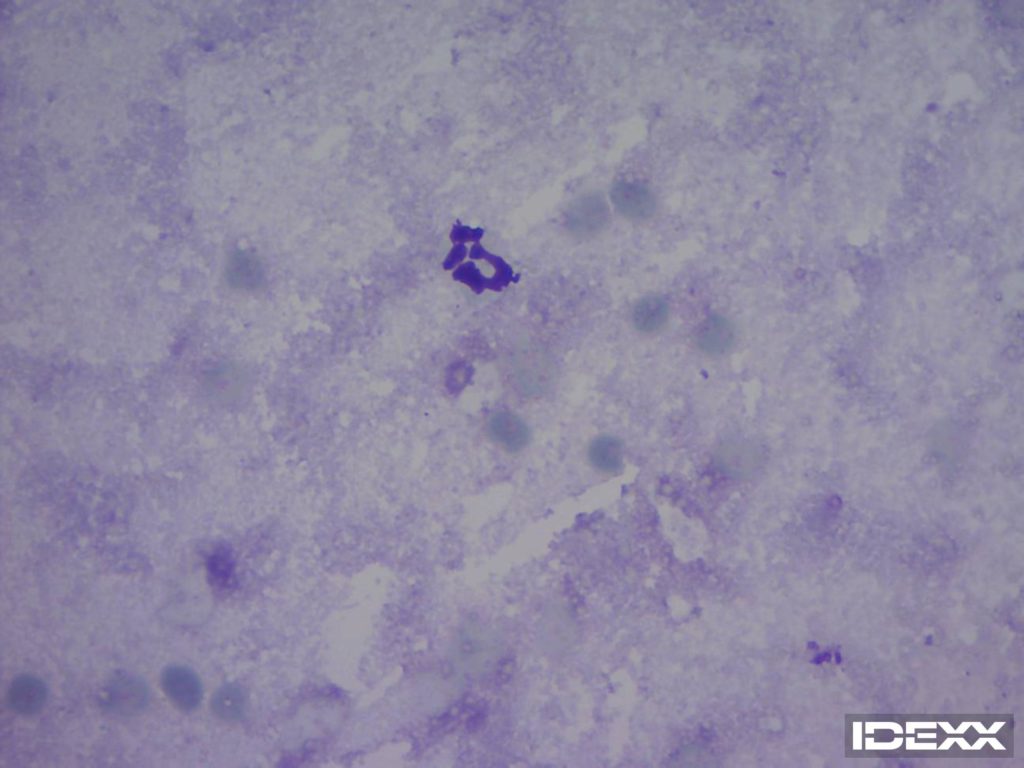 Click here for the IDEXX Pathology Report on this case.
Microscopic Description:
The slides have a chalky appearance after staining. They consist of thick areas of amorphous brown (before adding oil) to pinkish blue (after adding oil) refractile crystalline material in a background of mild to moderate blood and mildly increased numbers of neutrophils and vacuolated macrophages. No infectious organisms or overtly neoplastic cells are seen.
Cytologic Interpretation:
Mineralized material with mild mixed inflammation
Comments/Pathogenesis:
The slides primarily contain abundant amorphous crystalline material consistent with mineralization. Given the patient signalment and lesion location, calcinosis circumscripta is considered most likely. These lesions commonly affect young German Shepherds and are found over pressure points or areas of repeated trauma. These are benign lesions that may be treated with surgical excision.
Calcinosis cutis is a general term used to describe mineralization (often calcium) in the skin and subcutaneous tissue. Although etiologies may overlap, 4 categories of mineralization/calcification have been described. 1) Dystrophic: Generally associated with glucocorticoid use, hyperadrenocorticism or in response to trauma (aka calcinosis circumscripta). 2) Metastatic: Associated with calcium and phosphorus disorders (i.e., chronic renal failure). When the product of serum calcium and phosphorus is greater than 60-70 the patient is at risk for soft tissue mineralization. 3) Iatrogenic: Rare complication of IV or SQ calcium chloride or calcium gluconate therapy. 4) Idiopathic: Catchall category when there is no history of trauma or abnormal serum calcium.
Reference/Additional Information:
Gross TL, Ihrke PJ, Walder EJ, et al: Skin Diseases of the Dog and Cat, Clinical and Histopathologic Diagnosis. 2nd ed. Oxford UK, Blackwell Science, 2005; pp 373-380.