SIGNALMENT:
Age: 1 year
Sex: Female – spayed
Breed: Unknown
Species: Canine
SOURCE/HISTORY: Extra medullary intradural spinal tumor. Rule out meningioma versus other. T13-L1.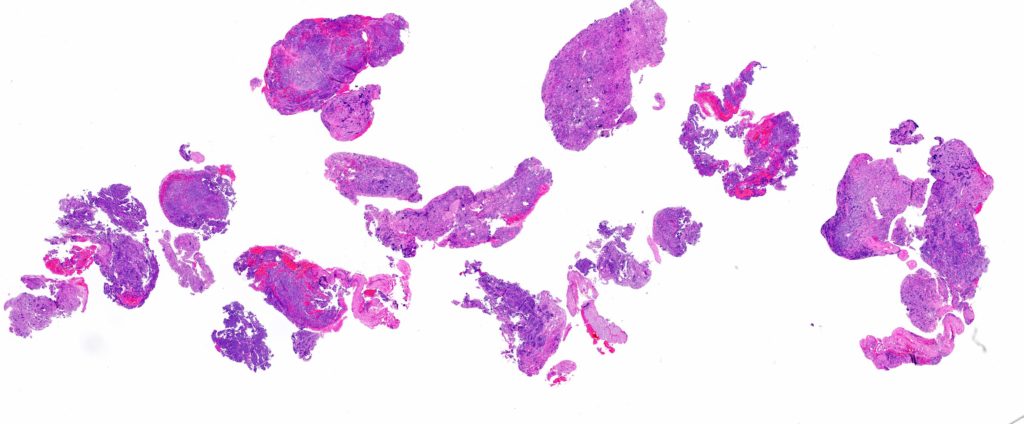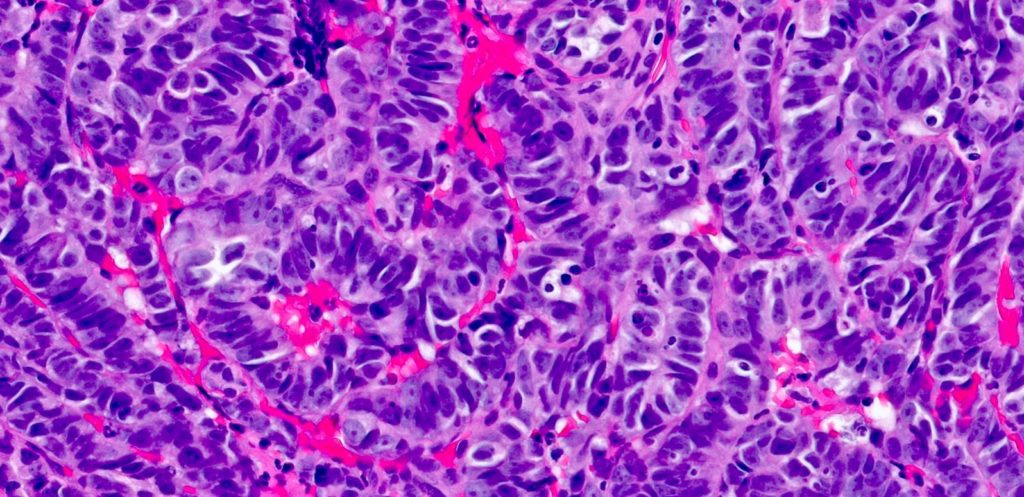 Click here for the IDEXX Pathology Report on this case.
MICROSCOPIC DESCRIPTION:
Multiple fragments of tissue from the extramedullary/intradural region of T13-L1 are evaluated. These samples are comprised of neoplastic cells that form vague tubular structures. The neoplastic cells are cuboidal to columnar with a large oval nucleus with a clumped chromatin pattern and a prominent centrally located nucleolus. The cytoplasm is eosinophilic. Delicate fibrovascular stroma supports these cells. Fibrin and neutrophils are present in areas with abundant red blood cells.
MICROSCOPIC INTERPRETATION:
Extramedullary/intradural region of T13-L1: Intradural-extramedullary spinal cord tumor of young dogs (synonyms: ependymoma, neuroepithelioma, spinal cord blastoma, medulloepithelioma, hamartoma, and nephroblastoma)
Mitotic Count: 9
Excision: Extends to margins
Vascular Invasion: Not observed
COMMENTS:
Intradural-extramedullary spinal cord tumor of young dogs is an uncommon lesion. The vast majority of these tumors are observed between T10-L2. German Shepherd dogs, labrador Retrievers and Golden Retrievers between the ages of 6 months and 3 years are predisposed. Because of the histologic features, it is proposed that this tumor may represent extrarenal nephroblastoma arising from ectopic mesonephric or metanephric tissue trapped within the dura during embryologic development. Complete excision of the tumor can be associated with long-term survival (4 months and > 3 years). Radiation therapy has been used to treat incompletely excised tumors.
PATHOLOGIST:
Nicole Kraipowich, DVM, MS
Diplomate, American College of Veterinary Pathologists
Direct: 720-977-6154 1-888-433-9987, option 0, x76154
E-mail: nicole-kraipowich@idexx.com