Species: Canine
Breed: Weimaraner
Age: 9y
Gender: MALE
Source/History: Left salivary gland.
Click here for the IDEXX Pathology Report on this case.

Microscopic Description:

Slides are of moderate cellularity and consist of variable proportions of mesenchymal cells with epithelial cell clusters in a pale blue background with mild blood. Mesenchymal cells are variably intact and are noted individually and in large aggregates with abundant pink extracellular matrix. Nuclei are oval with stippled chromatin and occasional indistinct nucleoli. Cytoplasm, when intact, is scant, basophilic, wispy and tapered. Mild anisokaryosis and binucleation are appreciated. Intact epithelial cells are tightly cohesive with variably distinct cytoplasmic borders.  Nuclei are round to oval with stippled chromatin and no visible nucleoli.  Cytoplasm is abundant and highly vacuolated consistent with salivary origin.  Few clusters of high N:C ratio epithelial cells consistent with ductal origin are noted.  Atypia is minimal in both epithelial cell populations.  No inflammation or infectious organisms are seen.

Cytologic Interpretation/Comments:

Mesenchymal cell proliferation with well-differentiated salivary epithelial cells.

This lesion exfoliated mesenchymal cells and salivary epithelial cells that are not exhibiting a high degree of atypia and inflammation is not appreciated. Considerations for the presence of both cell types include reactive fibroplasia with normal salivary epithelial cells, a pleomorphic adenoma with both epithelial and mesenchymal differentiation, malignant mixed tumor, other sarcomas (primary or metastatic). Biopsy with histopathology will be needed to further characterize the lesion and offer prognosis.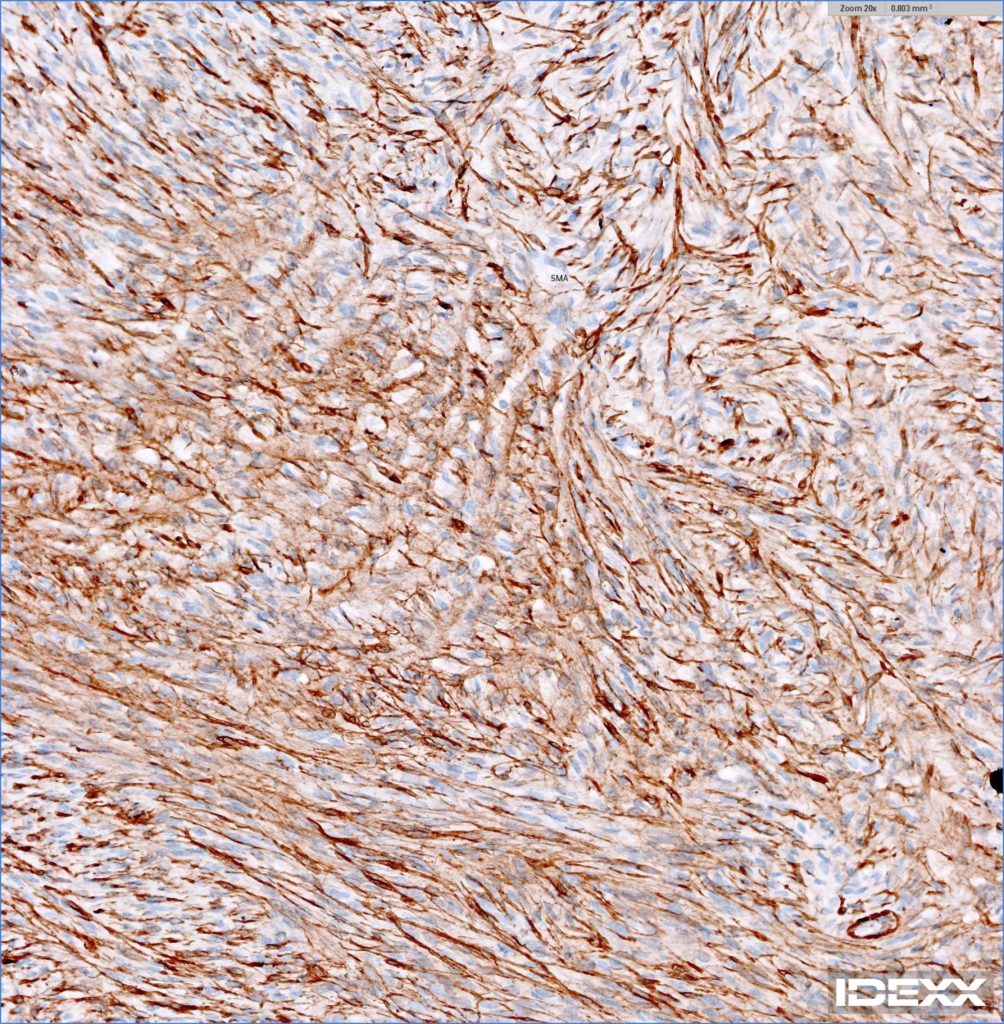 Microscopic Interpretation of Biopsy:
Malignant spindle cell tumor
Margins:  The mass extends close (less than 1 mm away) to circumferential surgical margins

Mitotic count:  1
Vascular invasion:  There is no definitive evidence of lymphovascular invasion

Comments:
Tissue submitted appears to be consistent with a sarcoma throughout the salivary gland and more specifically given the stroma and histopathologic features may potentially represent a malignant myoepithelioma which have rarely been reported to arise within the salivary glands of dogs.

IHC Results:
Vimentin: Positive. There is strong regionally extensive intracytoplasmic highlighting of the spindle cells.

Smooth muscle actin: Positive. There is moderate regionally extensive intracytoplasmic highlighting of spindle cells.

AE1/AE3 (cytokeratin):  Rare POSITIVE.  There is rare cytoplasmic highlighting of spindloid cells.  There is internal highlighting of pre-existing salivary glandular tissue.

Interpretation:
Favor malignant myoepithelioma (myoepithelial carcinoma)

Comments/Pathogenesis:

The combination of smooth muscle actin positive spindle cells and rare cytokeratin positive spindle cells is favorable for myoepithelial stroma and in this case malignant myoepithelioma. An additional IHC marker, p63, could be used for confirmation.

Reference/Additional Information:

Salivary gland tumors are rare in dogs and cats and tend to be epithelial in origin with malignant varieties predominating, especially acinic cell carcinomas and adenocarcinomas. Tumors are generally seen in the parotid and mandibular salivary glands of older patients.  Myoepithelial carcinomas originate from the myoepithelial cells that surround the secretory (mucous and serous) cells of the salivary gland and are very rare. These tumors are classified using a combination of histopathology and immunohistochemical markers for epithelial and myogenic markers.

Munday JS, Lohr CV, Kiupel M. Tumors of the Alimentary Tract. In: Meuten DJ ed. Tumors in Domestic Animals. 5th ed. Ames; Wiley, 2017:544-547.

Faustino AM, Dias Pereira P. A salivary malignant myoepithelioma in a dog. Vet J. 2007;173(1): 223-6.