History:
Patient presented to the primary veterinarian for a swelling at the right side of
the neck (just behind the mandible). As the patient did not exhibit clinical signs
associated with the swelling and the swelling was soft and nonpainful, conservative monitoring was elected. 
The mass has progressed in size without associated clinical signs. The patient is eating and drinking normally, and there is no problem prehending, swallowing, no respiratory distress, and there is no discomfort.
Imaging:
Pre and post-IV contrast craniocervical CT. Click the following images to enlarge them in a new window.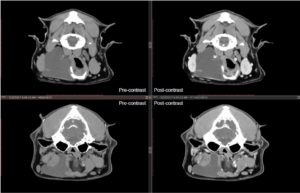 Conclusions:
– This is a classic example of a salivary mucocele (alternatively termed sialocele), presumptively from the right mandibular salivary gland (and a smaller left sided salivary mucocele is evident – in the annotated image below a small green arrow demarcates this lesion).
– 
An expansile, well-defined, fluid-filled mass, without evidence of aggressive regional characteristics indicates a benign cystic rather than infiltrative process and a salivary mucocele is the primary differential.
– It is important to remember that temperomandibular joint neoplasms with cystic components (myxomatous neoplasms) can resemble salivary mucoceles, though will often be occompanied by lytic and/or erosive osseous changes and are centered at the TMJ's.
– Alternate imaging modalities, such as ultrasound and MRI, have been utilized and, in particular, knowledge of the sonographic characteristics is important to allow for non-sedated or anesthestized diagnosis of this disease in patients.
References:
Atkins RM, Hecht S, Westermeyer HD, McLean NJ.
J Am Vet Med Assoc
. 2010 Dec 15;237(12):1375-6. doi: 10.2460/javma.237.12.1375.
First Case of Salivary Mucocele Originating from the Minor Salivary Gland of the Soft Palate in a Dog. Journal of Veterinary Medical Science. 2012 Jan. 1;74:71.
Clinical, computed tomographic, magnetic resonance imaging, and histologic findings associated with myxomatous neoplasia of the temporomandibular joint in two dogs. Journal of the American Veterinary Medical Association. 2016 Jan. 1;249:1301.