This series highlights members of IDEXX Telemedicine Consultants as they discuss their individual career paths, passions and provide words of wisdom for fellow Veterinary Radiologists planning their careers.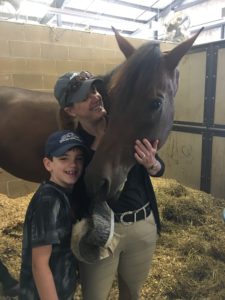 Megan Uerling DVM, DACVR
Role at IDEXX Telemedicine: Team Lead TeleRadiologist
Undergraduate Studies: Rice University  Vet School: Texas A&M  Residency: UC Davis
Additional Education/Training:  Radiology internship prior to my residency at Gulf Coast Veterinary Specialists in Houston. Equine medical and surgical internship right after vet school at Alamo Pintado Equine Medical Center in Los Olivos, CA
Why did you choose your career? I loved the diagnostic aspect of it, putting pieces together like a puzzle, then moving on to the next case.  I also loved the flexibility of this particular specialty in that I knew I could manage both family and career. 
Passions/interests: Outside of radiology?  Definitely family, horses, reading, snow skiing. 
Inspirational insights for new Radiologists entering the workforce:  There is so much variety in the field of radiology – you can create any kind of career you want!  We are really lucky to be in demand almost everywhere.  You can work full time, part time, in academia or research, private practice, mobile practice, telemed, or a combination of all! 
What is your favorite thing about Veterinary Radiology?  The variety of cases we see on a daily basis.  Unlike in practice where you might only see 5-10 patients in a day, we routinely see 30-50 or more, and patients from all over the world.
Do you have a favorite imaging modality and why? Plain film radiology.  I think it's amazing how much we can see, and I have a lot of respect for the pioneers of imaging who didn't have modalities like ultrasound and cross-sectional imaging to fall back on. 
What do you enjoy about your position with IDEXX? FLEXIBILITY!  I can't imagine any other full time job where I could also balance family and horse shows.  I can travel and still continue working.  I routinely get to show in Michigan, Kentucky, Tennessee, Colorado, and Florida, and I spend the summers with my family in Colorado.  Working remotely is never a problem.
What tips would you like to share with Radiologists interested in Telemedicine?  It is definitely not as easy as people think it is, nor is it as isolating.  The cases are challenging and varied, and there is a certain skill required in communicating everything important in a single concise report.  We don't routinely get to have back and forth conversations with our clients.  Everything you need to say needs to be said clearly in the report.  We have a large dynamic group of radiologists, and several tools are available for frequent communications.  It's super easy to IM a colleague, share screens or send a screen shot, and discuss a case.  Most of us do this daily.  I never feel completely alone.
Tips on how to prepare for and then finally take boards: For writtens, just STUDY.  There is no trick to this, it's just old fashioned learning.  The good thing is, it will hopefully be the LAST time you have to cram that much information into your brain at a single time, ready for instant regurgitation!  For orals, gather as many cases as you can that have "answers."  And then go through them ALL.  Ask other radiologists to give you KCC.  See as many cases as you can.  And then try to relax and just have fun with it.  Orals are nothing more than what you have been doing and will do every day for the rest of your life.  They aren't meant to be sneaky or tricky.  If something seems straightforward, it probably is!
Are there telemedicine myths you'd like to bust? We do NOT work alone in the dark all day! 
Do you have suggestions for those planning to work at home? Make sure you have a work space that you are comfortable in, because you are going to spend a lot of time there.  And make sure that you draw clear lines between work time and personal time.  It can get blurry, and it's easy to overwork and get burned out. 
What other information would you like to highlight about your team? We are a very congenial group, and case discussion is common.  I think we are quite supportive of newly or recently boarded radiologists.  Also, there is a huge wealth and breadth of knowledge and experience among us, which is an amazing resource to be able to tap into!
Share a memory of a life event and how it has shaped you today:  The day I didn't match for a radiology residency seemed like the end of the world.  I spent 24 hours wondering what I could possibly do with myself, because I really didn't want to go back and do an intensive small animal internship on the heels of my intensive equine internship, and that's all I could think of that might help me get a residency the next year.  And I really didn't want to go into private practice.  But God, or fate, or someone, had a different idea.  The next morning an email went around to all of us who didn't match, inviting us to apply for one of the first radiology internships to be offered.  I jumped on the opportunity, was fortunate to earn the spot, and had an extraordinary year.  I got the small animal experience I needed AND a big boost in radiology experience, which made me a much more competitive applicant the following year, and secured me a much better residency than I could have gotten my first time around.  Not to mention made me a better vet and radiologist in the long run.  AND I met my future husband that year, which I never would have done had I matched the first time.  Which just goes to show that there is ALWAYS a plan, even if it doesn't seem like it!
Tell us what your perfect day looks like: My perfect day usually involves some combination of physical activity, riding my horse, and spending time with husband, son, and pets.  I am very lucky that I can usually incorporate all of those things into most days! 
If you'd like to learn more about Telemedicine with IDEXX,  email us today!
 Angela-Skidmore@idexx.com